Former Echelon agent warns Danish politicians against confidential conversations over the phone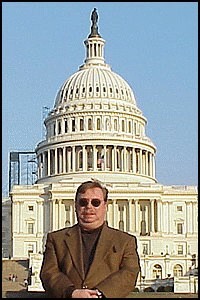 Wayne Madsen, ex-agent for the NSA: Your government is being monitored by Echelon.
The Echelon system not only listens in on private persons, companies and interest groups, Danish politicians and ministers are also the target of the NSA's extensive espionage, reveals Wayne Madsen to Ekstra Bladet, who meets him in Washington D.C.
Wayne Madsen was once a spy for the National Security Agency NSA - the intelligence service behind Echelon - but he has severed connections with his former employer.
We are crossing the border into the state of Maryland. Behind us lies Washington D.C., the US capital - and somewhere in front before us lies Fort Meade in neighbor-state Maryland. 'The Fort' is the headquarters for world-wide espionage and the workplace for 38,613 of the most talented secret agents in the world.
Wayne Madsen is very familiar with Fort Meade. For several years, it was his clandestine workplace. He has a pistol in the glove compartment of his car. Loaded. Wayne Madsen is always armed wherever he drives.
"I don't carry a gun because I think it's cool to have a pistol. But based on the sources I still have in the NSA, I know there are people in the intelligence services who do not care for people who talk about the secret services. Since they are armed, I had better be prepared, too."
Wayne Madsen is an experienced man in regards to secret projects and surveillance. Since 1975, he has been operating the most sophisticated computer technology in existence. First as a marine in the US Navy, then as an agent for the National Security Agency, NSA, and most recently as an employee at two of the NSA's partners, RCA and the Computer Science Corporation.
"Whenever anyone criticizes the NSA, it is important to remember that they have done a lot of important work, too. Both during the Second World War and the Cold War, when they were talented at breaking the codes of the Nazis and the East Bloc countries respectively."
TOTAL HEARABILITY
To prove to us that the NSA does more than just 'black work', Wayne Madsen wants to show us an unusual museum, the NSA's Center for Cryptologic History. 

"Since it is located at the same address as NSA headquarters, Fort Meade, we can see the buildings I worked in at the same time - from the outside at least."

Just before we get to Fort Meade, Wayne Madsen points down an access road. "I went through a lie-detector test and a voice-test analysis over there, before I was approved by the NSA," Wayne tells us with a faint, shy smile.
He was a lieutenant in the Navy at the time with ten years of experience in tracking Soviet U-boats and monitoring computer security.
What is the role of the NSA now that the Cold War is over?

"Primarily, they have a global network of computers known as Echelon. The computers are connected with their intelligence satellites and listening posts all over the world. And they still do military work. The difference is, however, that today they monitor everything and everyone. Politicians, organizations, companies, private individuals, even friends in allied countries. In 1985, their long-term goal was "total hearability", i.e. the capability to listen in on all communication around the world."

MINISTERS MONITORED
Is Denmark part of this system? 

"Yes. Denmark is a third-party partner in the surveillance agreements. On the other hand, however, Danish ministers and politicians must assume that they are under surveillance."

What?!?

"Yes, that is part of the way they work. At their embassies, they have groups called 'Special Collection Elements' that monitor local low-frequency communication. Anything of interest is forwarded here to Fort Meade where it is analyzed."

"If something can't be intercepted from the embassies, they try to intercept it from the listening posts in the various neighboring countries. So is it very risky for Danish ministers to talk on cellular and satellite telephones alike," says Wayne Madsen as we enter the NSA museum.

SPY TO EX-SPY
Inside the museum, Wayne Madsen asks whether Jack Ingram is at work today. A moment later, a tall man appears. Ingram has been an NSA spy for many years. Now he administrates the museum. He shakes hands with Wayne, and the pair quickly strike up a conversation about common acquaintances at various intelligence agencies and companies.
Shortly after, we walk around looking at the NSA's exhibits of cast-off super-computers and code deciphering equipment - debris from more than fifty years of intensive espionage in world-wide communication. Wayne Madsen continues:
"Denmark doesn't get very much out of being a third party, because NSA is the first party and decides which information the other countries receive. So obviously, whenever they monitor specific politicians or companies in a certain country, they naturally don't tell the local government about it. The information they give to Denmark is something that promotes their own interests or something they themselves consider to be a threat. For example something about Tamilians or the PKK, the Kurdish resistance movement. If it involves information which promotes their own financial interests, then naturally they use it for their own benefit."
Do you have specific examples of what you are saying?

"Mike Frost, who worked for Canada's intelligence service, which also participates in Echelon, has personally monitored both politicians and companies in other countries. He told me among other things about monitoring the Chinese embassy in Canberra, Australia. All the information was forwarded here, to Fort Meade. The Australians never saw the information because the US could use it to control the world wheat trade. Although I write books and articles about the NSA, I still have good contacts in intelligence circles at present," states Wayne Madsen.

As we drive back to Washington, he turns briefly toward Fort Meade's parabolic antennas with a serious look on his face:
"The problem is that the NSA has lost sight of its purpose. It's not right that taxpayers' money is used to help major shareholders in large corporations to earn huge profits. Or for that matter the fact that the NSA puts ordinary people, legal organizations and politicians under constant suspicion."
EXTRA FACTS
In a joint council in September, Minister for Defense Hans Hækkerup admitted that Denmark cooperates with other countries on surveillance. However, Hans Hækkerup would not reveal which countries and intelligence agencies Denmark cooperates with. It does appear, however, in the archives left behind by the former head of the Danish Defense Department's Intelligence Service, Commander Mørch.
Sources in Mørch's archives show that Denmark entered into an agreement with the US on surveillance cooperation all the way back in 1947 - the same year that the UKUSA - the pact behind Echelon - was established. The UKUSA pact is controlled by the National Security Agency in the US, in which the Australian, Canadian, New Zealand and British intelligence services participate as second-party partners. Most NATO countries - including Denmark - officially entered the pact as third-party partners in 1950. According to documents in the possession of Extra Bladet, the National Security Agency has now confirmed that it has third-party partners.